Washington state man cites Biden's advice in shooting case
Published July 18, 2013
FoxNews.com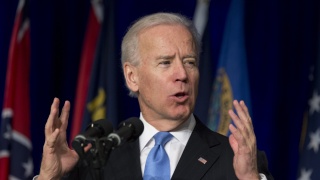 Feb. 27, 2013: Vice President Biden gestures as he speaks at the Winter-Spring meeting of the National Association of Attorneys General. (AP)
A Washington state man who fired a shotgun to deter alleged car prowlers claims he was following Vice President Joe Biden's advice about using a shotgun for protection when he scared the suspects away.
KOIN.com reports that 52-year-old Vancouver resident Jeffery Barton pleaded not guilty Wednesday to one count of illegal aiming or discharging a firearm.
Barton reportedly told deputies that he fired his shotgun while chasing away people he suspected to be breaking into his vehicles. Deputies have said there was no evidence of prowlers on his property, according to the report.
"I did what Joe Biden told me to do," Barton told KOIN.com following his arraignment hearing. "I went outside and fired my shotgun in the air."
Biden made the recommendation during a Facebook chat in February, saying he has advised wife Jill to stand on the deck of their rustic home and fire the family's double-barreled shotgun in the air, should she sense an intruder.
"You don't need an AR-15 — it's harder to aim, it's harder to use. You don't need 30 rounds to protect yourself," Biden said at the time. "Buy a shotgun."
The social media event was used to garner public support for President Obama's attempt to tighten federal guns laws, following a series of mass shootings.
Clark County sheriff's deputies told the station that residents may only fire off their gun for self-defense in life-threatening situations. An investigation into the incident is ongoing.
Read more:
http://www.foxnews.com/politics/2013/07/18/washington-state-man-accused-illegally-firing-shotgun-cites-bidens-advice/#ixzz2ZP5T95dm